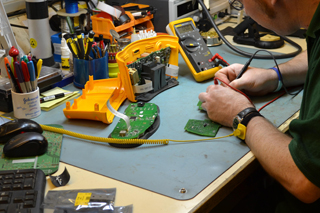 At some point all instrumentation needs extra care and attention. Precise Calibration Services prides itself on being one the few remaining repair and calibration houses to still provide a full investigative component level repair service.
Our engineers hold years of personal and professional expertise and experience at investigating faults, from obvious damaged components through to intermittent fault diagnosis.
The skill and attention to detail we encourage in our engineers approach to solving and finding faults is something that has developed from a desire to more the solution to our customers problems.
All repairs are managed and undertaken in house with an expert eye to detail combined with tried and tested methods of fault finding to enable us to provide your equipment and investment a long productive life.
If your equipment needs some extra attention and time to repair, we are able to offer an interim hire solution while your equipment is worked on.  View our full range of hire equipment or contact us to discuss your requirement further.
All hire equipment is supplied with calibration certificate traceable to national standards, along with instructions, test leads and product support.