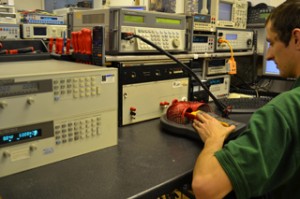 Test Equipment accuracy is important as it is the basis of all the measurements you make with your test meters. Our calibration departments in both Wigan and Bolton offer a wide scope of test and certification capabilities for all electrical, mechanical and environmental test instrumentation.
If your meters measures voltage, current, sound, light, gas we have the engineering expertise and equipment to adjust, measure and certify your equipment.
Our in house laboratories are equipped with the latest calibrators and test software to enable us to provide a modern and professional management of your equipment through our system and back to you with a fast turnaround time.
Our test instruments hold comprehensive,traceable references and certification back to national standards and fully comply with the requirements of our Precise Calibration Services Quality Assurance Certificate.
For customer and clients who require a full UKAS certificate on their equipment, we are also able to provide this for you on request.
Where you have equipment on site that is mission critical to day to day operation and cannot be sent away for certification, we offer an on-site service where our qualified engineers will bring calibration equipment to you.  They will work on-site to quickly and expertly have your meters calibrated and back to your engineers. This service is available nationally and we are happy to provide competitive quotations for on-site calibration days.