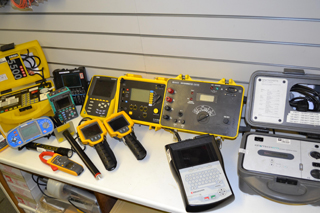 Instrumentation needs can change day to day and your usual test equipment may not be capable of making the test required. For times when equipment is only needed for short term applications we are able to offer our customers a wide range of test and measurement equipment for hire.
Our hire fleet carry up to date test certification meaning it is ready to go out of the box and typically available for same day collection from our trade counter or courier service.
Hire equipment is also made available to help cover your requirements whilst our team of expert engineers looks at and services your test meters. We are able to provide and suggest like for like alternatives and product training on equipment to ensure that you are able to carry on with your important work whilst your main meters are with us.
For more specialist applications we are able to source equipment from an existing network of suppliers and partners, so please contact us if you do not see the test equipment you need or if you need advice on suitable test meters.
View our full range of hire equipment or contact us to discuss your requirement further.
All hire equipment is supplied with calibration certificate traceable to national standards, along with instructions, test leads and product support.